September 24, 2018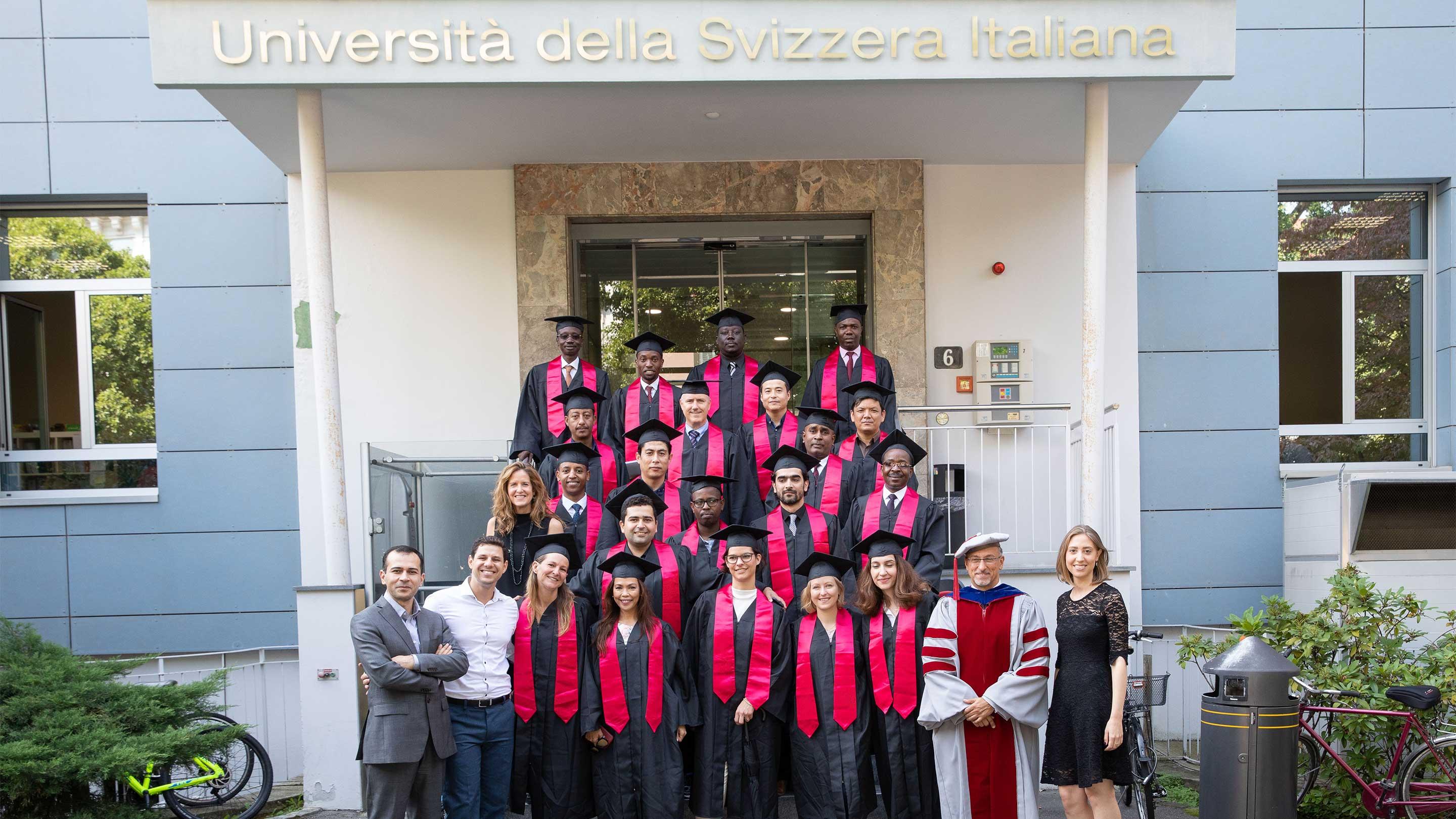 The MASHLM Program prepares active practitioners to engage in applied humanitarian research, providing education in the key areas of supply chain management, process and project management, strategic management, and humanitarian action. Participants build practical skills through real-world humanitarian challenges. Through MASHLM graduates, international aid organizations are equipped with the tools and methods that allow them to improve the quality of their operations.
USI Rector, Professor Boas Erez, with the Dean of the Faculty of Economics, Professor Patrick Gagliardini, and the MASHLM Academic Director, Professor Paulo Gonçalves, greeted the graduates and bestowed diplomas, recognizing their achievements.
USI was particularly honored to have as keynote speaker of this year's graduation ceremony Nilawaty Bahar, Chief Human Capital Officer at The First MicroFinanceBank in Afghanistan. Nila is an alumna of the MASHLM program who implemented her thesis, demonstrating the impact of the program through cost savings that were re-invested into building capacity in the organization.
Best Thesis Award
The award for the Best Master Thesis went to Milan Sanjeeva Ponweera for his work, Lean Recruitment: Lean Six Sigma Case Study at Aga Khan Foundation Afghanistan, and Bisrat Lemma Aderie, for his thesis: Humanitarian Response by CARE International in Ethiopia: The Case of El Niño Disaster Preparedness and Response – a Process Analysis.
The MASHLM 2018 graduates with their nationality, position, company, and country of residence:
Name

 

Nationality

Position

Organization

Location

Saed

ABDULLAHI

Somalia

Founder and Supply Chain Director

Tanaad Cooperative Multi Services

Sweden

Bisrat 

ADERIE

Ethiopia

Procurament Manager

CARE International

Ethiopia

Samson

BALEKEMBAKA

DRC

Country Logistics Manager

Save the Children

Ivory Coast

Yoseph

BAYE

Ethiopia

HR Manager

MSF-OCA Operational Center from Amsterdam

Jordan

Luisa

GÄRTNER

Germany

PhD student in Management

Università della Svizzera italiana

Switzerland

Mir Shayiq

HUSSAINI

Afghanistan

Deputy Logistics Coordinator

International Committee of the Red Cross (ICRC)

Afghanistan

Momoh

JIMMY

Sierra Leone

Government Relations Director

Partners in Health, Sierra Leone

Sierra Leone

Philip

JONES

UK

Independent Consultant

WFP Dubai UAE

UAE

Ignatius

KAMARA

Liberia

Receiving and Inspection Assistant

United Nations Mission in Liberia (UNMIL)

Liberia

Munyaradzi

MADZIMA

Zimbabwe

Logistics Officer

Zimbabwe National Family Planning Council

Zimbabwe

Paul

MAKOSA

Kenya

Program Officer

World Health Organization

South Sudan

Shamsuddin

MOHAMMADI

Afghanistan

Regional Manager, Procurement and Logistics

Aga Khan Foundation

Afghanistan

Aamir

MUHAMMAD NOUR

Sudan

Operations Officer, El Fasher

UNICEF

Sudan

Evans

MWAMBA

Zambia

Principal Officer in charge of Examination

Road Transport and Safety Agency

Zambia

Elena

PEDRONI

Switzerland

Executive Assistant

EFG International

Switzerland

Milan

PONWEERA

Sri Lanka

Human Resources Specialist - Recruitment

Aga Khan Foundation

Afghanistan

Mohammad

RAHIMI

Afghanistan

Regional Deputy Manager, Finance

Aga Khan Foundation

Afghanistan

Monette

RANA

Nepal

Operations Advisor

Internews Network

South Sudan

Ramin

SATARY

Afghanistan

Logistics Site Manager

International Committee of the Red Cross (ICRC)

Yemen

Magdolna

SUBA PIERRE

Hungary

Replenishment Team Leader

CERN

Geneva

Dorna

TAHMASBI

Iran

Field Assistant

UNHCR Iran

Iran

Baktash

TORDIQUL

Afghanistan

Medical Logistician

International Committee of the Red Cross (ICRC)

Nigeria
About USI and MASHLM
The Università della Svizzera italiana is part of the Swiss public university system. Founded in 1996, it is distinctive in the Swiss university landscape because of the originality of its degree curricula and the high percentage of international students. USI comprises five faculties: Economics, Communication Sciences, Informatics, and Biomedical Science (as of 2020) in Lugano, and the School of Architecture in Mendrisio. USI offers a range of executive programs, among them the Master of Advanced Studies in Humanitarian Logistics Management (MASHLM).
The MASHLM program is a premier educational program that supports the global humanitarian community to improve its understanding of the challenges and opportunities in humanitarian emergencies. Participants are active practitioners that improve their performance in humanitarian operations. Based in Lugano, the MASHLM is an intensive part-time program with six residential sessions over twelve months. The program combines theory and practice to generate real impact by using advanced tools and methods applied to practical humanitarian challenges, focusing on the implementation of relevant theory to improve practice, and teaching across projects, organizations and experienced participants.