June 13, 2016
When Comandante Matteo Cocchi wanted to "find new leadership methodologies" for the cantonal police, one of his officers, Lieutenant Andrea Cucchiaro, knew exactly where to go. Andrea, a MASHLM 06 graduate, was sure that techniques he had learned in Social Innovations class could also be used to help his police colleagues address some of their current challenges.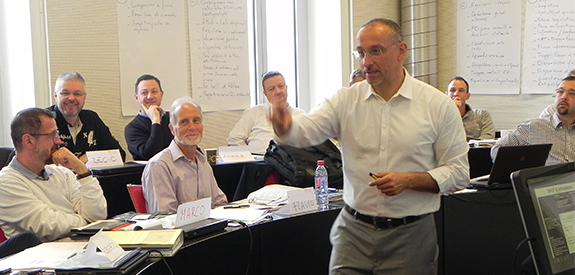 Prof. Paulo Gonçalves and Gloria Urrea led the senior officers first through a SWOT analysis and then an ideation process aimed at generating as many new ideas as possible.  The exercise included an innovation tournament where participants compete and collaborate to produce the very best ideas. The goal, according to Professor Gonçalves, is to "transition from identifying problems into exploring solutions."
The cantonal police officers were so enthusiastic about these new problem solving methods that they have requested a second workshop in the autumn.