Application of Process Management with Lean Six Sigma for Effective Cash Assistance Delivery Programs to Vulnerable Refugees in Yemen.

by Deo Kaziarua Nemes
Problem description and motivation
Following the escalation of the conflict in Yemen started in March 2015, the number of vulnerable refugees have increased with depleted financial resources and lack of livelihood opportunities as a coping mechanism. Out of 278,880 registered refugees' population in Yemen by the end of 31 December 2016, 10,439 were persons with specific needs. As compared to 2012, there has been an increase of 1,577 persons with specific needs and this is expected to increase beyond 2017 with no signs conflict ending soon in Yemen.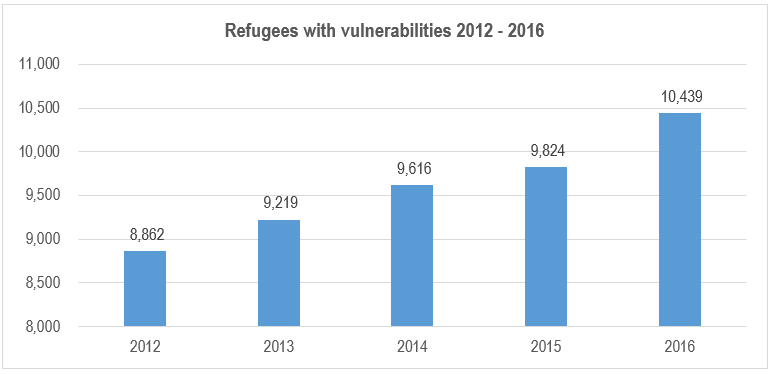 Approach
The case study of cash assistance delivery program to vulnerable refugees in Yemen involves qualitative research methods. Source of data is from UNHCR case management database, cash distribution lists, assessments forms, cash assistance monthly and annual reports, and beneficiaries of cash assistance.
Data were collected during DMAIC methodology on cash assistance delivery stages, data on processing time in each stage using process map was collected. In order to get an in-depth understanding of cash delivery process, desk review of the process through semi-structured and unstructured personal interviews from eleven staff members within UNHCR staff members in charge of cash assistance, Government officials, UNHCR implementing partners for cash assistance delivery, refugees and other key stakeholders was conducted over the period of three months.
93 sample cases were used for data analysis and discrete-event simulation software to model and simulate existing cash assistance delivery process. The sample selected is convenience sampling due to the limited time gather as much quality data from vulnerable refugees applied for cash assistance support, and unavailability of complete source list with different processing times for each stage.
Short description of findings
The results of this study suggested the application of the Lean Six Sigma to understand and visualize the customers' needs who are vulnerable refugees in need of cash assistance, there is an opportunity for the improvement. The simulation results showed a bottleneck in the process in particular to Home visit assessment has a capacity that is not able to cope with all the cases cleared in the status verification stage. This leads to an increased cycle time due to the cases that wait to be processed by Home visit.
Cash assistance delivery process map (statistical data from sample of 93 cases) 
* For better visualization of the graphic please zoom it in your browser.
Contribution of the work toward addressing the problem.
The results from the Lean Six Sigma methodology and the computer simulation suggest improvements are not necessarily in the process map (re-organization of activities). Rather, the recommendations from the Improve step of DMAIC methodology could be implemented. Recommendations range from the training of staff involved in the verification process, review of assessment form before committee meeting to find out missing information in advance, sort of cases based on vulnerability criteria to foster faster decision making and confirm availability of cases to be visited before the visit to ensure no backlog is created from no-shows.
The simulation results complement the study and suggest a deeper capacity analysis should be done to determine how to improve the overall cash assistance delivery process. The simulation results suggest the capacity of the home visit should be increased.
A screenshot view when the simulation was running (ProModel software)
Further analyses from the simulation were performed to determine the necessary number of assessment officers (from current 14 officers) to eliminate the cases waiting to be processed by a home visit. With 18 assessment officers, around 75 cases will be in the wait for home visit queue (around 3-day waiting time), while with 19 officers, only around 3 cases wait in the home visit queue (less than a half-day waiting time). 
If you want to learn more from this executive summary, send us an email to mashlm@usi.ch requesting the full thesis.